Lee Matasi Memorial Exhibit Celebrates Young Genius, Mourns Canada's Loss
"The Lee Matasi Memorial Exhibit" Presented by the Ottawa School of Art Gallery, March 7th – April 2nd. The opening will take place on Tuesday, 7th from 6:30 pm – 9:00 pm.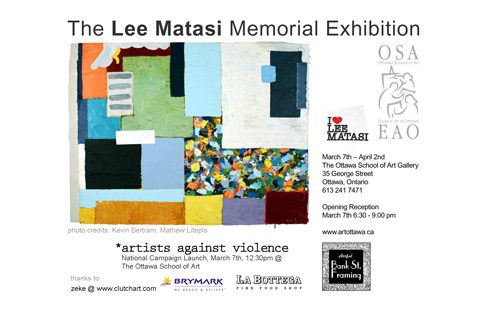 Media Preview and Press Conference for launch of "Artists against Violence" Campaign: 12:30pm, March 7th, featuring campaign creator and Lee's mother, Susan Jessop.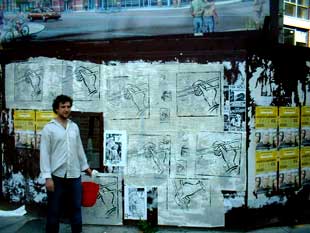 Ottawa , On. (Feb 15th, 2006) The Ottawa School of Art Gallery is honoured to present the "Lee Matasi Memorial Exhibit", a solo exhibition of the life work of young artist Lee Matasi. Featuring paintings from several collections as well as works from his mentors David Bolduc and Alex Cameron, these paintings chronologically and geographically follow Matasi's development.
Included in this exhibition are Matasi's last works just before his tragic murder on December the 3rd, 2005 in Vancouver . During Lee's fascinating life, he was featured in diverse media such as a skateboarding video from the west coast, a phone book billboard advertisement in France and an art magazine published in Montreal . Examples of these as well as various letters will be mounted along with the real "star" of this show: Lee's artwork. Over 20 works on canvas and paper will be on display, ranging from graffiti tag imagery to architectural and figurative studies to his fusing of these approaches into a unique abstract style that placed Lee into one of the "next generation" of Canadian Contemporary Artists.
"The Ottawa School of Art is where my son, Lee, worked to perfect his art form. He went in with passion for his craft and left with that passion intact but his skills and technique were honed. The deep respect he felt for the school was inspired by the instructors who are working artists that shared their knowledge and insights with him," offers Lee's mother Susan Jessop, "Our family is truly honoured to have the student gallery renamed the Lee Matasi Gallery and we are proud to have established the Lee Matasi Memorial Fund. Our goal is to establish an endowed annual scholarship for a talented student in need. We want Lee to be remembered for his passion and devotion to art - not for the senseless and tragic manner of his death."
"A graduate of the Diploma Program, Lee was a talented young artist with a magnetic and gentle personality." adds Jeff Stellick , Executive Director of the Ottawa School of Art " When you saw his work, it was already highly developed and he was one of those students that made you excited - you just knew was going to go places. Lee was a professional artist when he left here, and I know hearing that would make Lee proud – it's what he wanted to be, it was his dream. He was 23 and was talented and passionate enough to already be living his dream."
"Lee's work is perhaps the best example of a current and very significant trend of contemporary art – young artists coming from a background of street graffiti on brick walls outside to brilliant formalist work on canvas, hanging on gallery walls inside," observes OSA Gallery Officer and a former OSA Instructor of Lee, Christopher Healey, "one of the last things Lee said to me was that he thought the Ottawa School of Art was "the best art school in Canada", and would tell everyone he met about it. Unfortunately, this is how he'll get that message out. We were lucky to have him here, and he was an immediate influence on everyone at the school. It was hard not to fall in love with him and his work."
The Ottawa School of Art offers Diploma and Certificate Programs, and a full range of community level art courses including drawing, painting, photography, new media, ceramics, sculpture, printmaking, and a wide variety of specialized short courses and workshops. Children's and Teens' classes range from multi-media to animation and cartooning, to sculpture and construction, pottery, drawing and painting.
The Ottawa School of Art is located at 35 George Street in the Byward Market. Look for the totem pole. Admission is to the gallery is always free.
-30-



Ottawa School of Art/École d'art d'Ottawa
35 rue George Street, Ottawa, Ontario K1N 8W5
P 613-241-7471, F 613-241-4391
Non-Profit Organization #12651028

Contact: Chris Healey, Gallery Officer
Ottawa School of Art: (613) 241-7471 ext. 26
www.artottawa.ca, osagallery@artottawa.ca